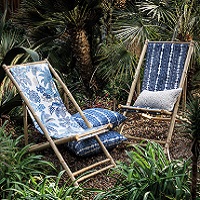 Outdoor / Indoor Collection
A vibrant collection of decorative printed fabrics and co-ordinating weaves offers practical and stylish fabrics for garden, poolside, terrace and indoor use. Osborne & Little favourites are reinterpreted and presented with exciting new designs to include exotic birds, underwater sea scenes, palms, and geometric designs inspired by African textiles.
PEONIA – originally designed for wallpaper, flowering eucalyptus, peony blooms and small white butterflies, are interpreted as a fabric.
HAMMOCK – a horizontal jacquard stripe of alternating bands of boldly coloured diamond and herringbone patterns, is presented in three new colourways.
MICHELIA OUTDOOR – exotic birds sit in the branches of a magnolia tree with budding flowers. This design was first introduced as a wallpaper in O&L's EMPYREA collection.
CORALLINE – an underwater scene of coral, seaweed, sea anemones, starfish, shells and schools of fish is printed on a linen-look ground.
KUBA – a textural jacquard weave of interlocking diamond shapes, inspired by Kuba textiles.
MARITIMA – a richly patterned underwater composition of tropical fish, shells and sea anemones.
MALABAR OUTDOOR – formerly a wallpaper design, this beautiful garden landscape of elegant trees, banana palms and date palms is now printed on fabric for outdoor use.
BEACH PLAIN – a tactile spotted weave, woven with luxurious bouclé yarns.
MORINDA – a printed irregular stripe with batik-like markings is reminiscent of African textiles.